Polymer Compounds
Our High Performance Engineered Polymers are specially designed to meet the high precision demands of commodity to engineering applications.
Our advanced compounding technology enables us to produce process friendly polymers with best-in-class reproducibility, enabling you to create systems with extra tight tolerances.
We offer a complete line of formulations like - Glass Filled Compounds, Mineral Filled Compounds, FR Compounds, PP-EPDM Compounds, UV Compounds etc.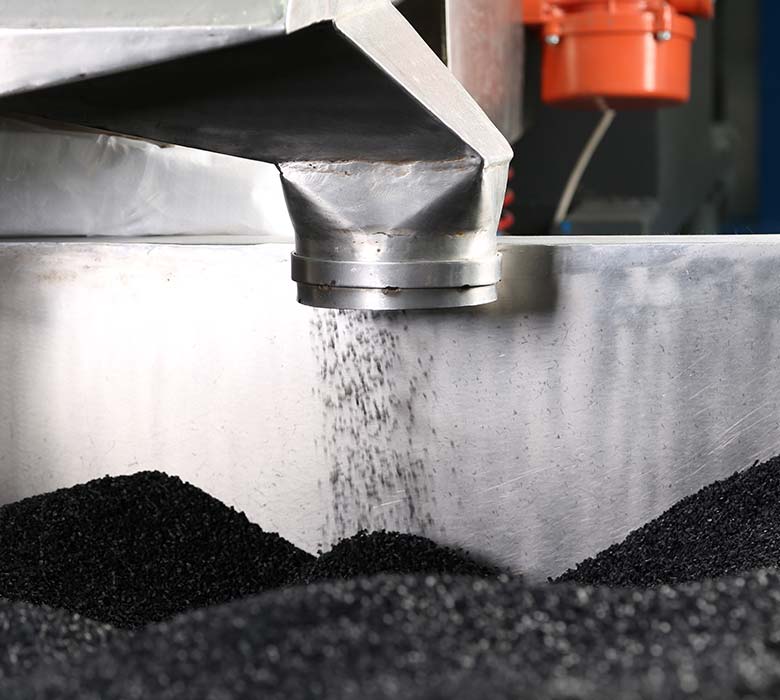 Compounds tailor made for you
When you need custom colored, reinforced, filled or specialty compounds formulated for a specific application, you can turn to us.
We study the end product application, molding process, required properties and formulate the compound that will tackle whatever challenges your application generates.
You name it and we can compound it for you.
Compounds

Enhancers

PP

PE

Nylon

ABS

HIPS

PBT

PET

Elastomers

PC-ABS Alloy

Talc

Glass

FR

UV

Talc & Glass

CaCO3

PP-EPDM

BaSO4
Few of our standard
grades for various
Markets & Applications
Process Applicable – Injection Moulding
| GRADE NAME | APPLICATION -END USE | FILLER % | FILLER | SPECIAL FEATURES |
| --- | --- | --- | --- | --- |
| SPA 22258 WT058 | COOLER WATER TANK, SIDE ACESSORIES | 20 | CaCO3 | MEDIUM MFI ,MEDIUM IMPACT |
| SPA 22284 WT058WT | SIDE PANEL OF COOLERS ,WATER PURIFIER | 20 | TALC | MEDIUM MFI ,MEDIUM STIFFNESS |
| SPA 33310 WT | GYSER SHELL | 30 | TALC+CaCO3 | HIGH MFI |
| SPA 149 GR096 | GYSER SHELL | 15 | CaCO3 | HIGH MFI ,HIGH GLOSS |
| SPA 22251 GR104 FRV2 | Electrical | 20 | TALC | FR GRADE |
| SPA 33383 WT075 | BODY PARTS OF APPLIANCES | 30 | CaCO3 | MEDUIM IMPACT ,MEDIUM FLOW |
| SPA 443501 FR V0 WT | GYSER BODY SHELL | 40 | TALC | FR GRADE |
| SPA 22299 FPPHGWT021 | TOP PANEL OF COOLERS | 25 | CaCO3 | HIGH GLOSS ,LOW SHRINKAGE |
| SPA PPTFRC BK /WT | COOLER WATER TANK, SIDE ACESSORIES | 25 | CaCO3+TALC | HIGH IMPACT,HIGH FLOW |
| SPA 3335 FPPWT005 | WATER TANK OF COOLER | 35 | CaCO3 | MEDUIM IMPACT ,MEDIUM FLOW |
| SPA 111100 NL | HOUSINGS/COVER TO ELECTRIC ITEMS | 10 | TALC | MEDIUM IMPACT ,MEDIUM TENSILE |
| SPA 22277 WT018 | WATER PURIFIER HOUSINGS PARTS | 20 | CaCO3+TALC | MEDIUM IMPACT ,MEDIUM STIFNESS |
Process Applicable – Injection Moulding
| GRADE NAME | APPLICATION -END USE | FILLER % | FILLER | SPECIAL FEATURES |
| --- | --- | --- | --- | --- |
| SPA 00801 UFBK001 | FENDER,WHEEL COVER | UNFILLED | UNFILLED | NO BREAK |
| SPA 11153 UVBK001 | INTERIOR PARTS OF AUTOMOTIVES | 10 | TALC | LOW IMPACT , UV GRADE |
| SPA 11152 GR102 | TRIM, PILLER A, CONSOLE & INTERIOR PARTS | 12 | TALC | MEDIUM IMPACT ,HIGH MFI GRADE |
| SPA 22289 GR093LG | STONE GUARD ,WHEEL ARCH | 20 | TALC | MEDIUM IMPACT ,MEDIUM MFI GRADE |
| SPA 33328 GFPPSTBK | UNDERHOOD PARTS OF AUTOMOTIVES | 30 | GLASS | HIGH HDT ,HIGH IMPACT GRADE |
| SPA 003530 GR028 | MUD GUARD,FENDER,WHEEL COVERS | 0 | UNFILLED | MEDIUM IMPACT GRADE |
| SPA 33304 GFTF | WATER HARVESTING ASSEMBLY PARTS | 30 | GLASS +TALC | GOOD CHEMICAL RESISTENCE ,MEDIUM IMPACT |
| SPA 33301 GFPP BK ST | EXTENSION ARM | 30 | GLASS | HIGH TENSILE, HIGH STIFNESS |
| SPA 22211 GFPP NL | INTERIOR PARTS IN AUTOMOTIVE | 20 | GLASS | UNIVERSAL GLASS GRADE |
Process Applicable – Injection Moulding
| GRADE NAME | APPLICATION -END USE | FILLER % | FILLER | SPECIAL FEATURES |
| --- | --- | --- | --- | --- |
| SPA 22204 HI NL | IRRIGATION FILTER BASE,ACCUMULATOR TANK | 20 | GLASS | HIGH IMPACT,MEDIUM TENSILE |
| SPA 33323 HI BK | CYCLONE,FLANGE ,COUPLINGS OF IRRIGATION | 30 | GLASS | HIGH IMPACT , GOOD TENSILE |
| SPA 00826 HIBK | FILTER BODY | 0 | UNFILLED | LOW MFI ,HIGH STIFFNESS |
| SPA 55500 HI BK | CLAMP HOLDER | 50 | GLASS | HIGH TENSILE ,HIGH STIFNESS |
| SPA 33301 GFPP NL | CYCLONE ,FLANGE OF FILTERS | 30 | GLASS | UNIVERSAL PURPOSE GRADE |
| SPA 22215 GFPP HI BK | DRIPPER | 20 | GLASS | HIGH IMPACT,MEDIUM TENSILE |
| SPA 33301 GFPP BK | DRIP IRRIGATION PARTS | 30 | GLASS | UNIVERSAL PURPOSE GRADE |
Process Applicable – Injection Moulding
| GRADE NAME | APPLICATION -END USE | FILLER % | FILLER | SPECIAL FEATURES |
| --- | --- | --- | --- | --- |
| SPA100 NATURAL | CLOSURES OF CONTAINERS | | | HIGH FLOW |
| SPA142 NATURAL | PACKAGING ITEMS | | | HIGH GLOSS, LOW SHRINKAGE |
Process Applicable – Injection Moulding
| GRADE NAME | APPLICATION -END USE | FILLER % | FILLER | SPECIAL FEATURES |
| --- | --- | --- | --- | --- |
| SPA 11115 RD | DECORATIVE STRIPS | 0 | UNFILLED | HIGH GLOSS, METALLIC COLOUR |
| SPA 15149GR096 | BODY COVER SHELL | 15 | CaCO3 | HIGH MFI ,HIGH GLOSS |
| SPA 11111WT | CONTAINERS OF FLUSH TANKS | 10 | CaCO3 | HIGH GLOSS , MEDIUM IMPACT |
| SPA 22203 GFPP NL | WASHING,AIR CONDITIONERS MACHINE PARTS | 20 | GLASS | MEDIUM FLOW MEDIUM IMPACT |
| SPA 33310GR008 | TANK /CONTAINER SHELVES | 30 | TALC+CaCO3 | HIGH MFI , GOOD GLOSS |
| SPA 33356 BK/NL | SHAVING KIT,DAILY NEEDS ITEMS | 30 | TALC | LOW IMPACT , HIGH STIFNESS |
We also provide customised solutions for your unique needs